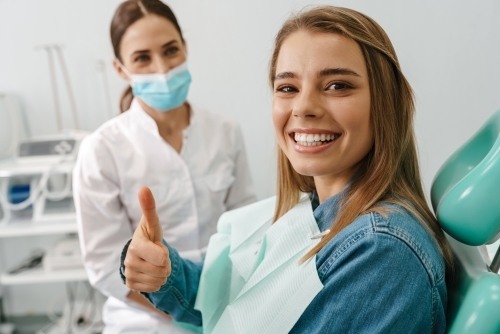 When it comes to your oral health, it's important to remember that dental insurance benefits are different from medical insurance benefits and most often don't cover all dental services. For example, some policies cover only basic services with annual limits on benefit payments. 
Still, having dental insurance helps you maintain a healthier smile along with better overall health and wellbeing. Not to mention, a well cared for smile is a confident one! Understanding how your insurance plan works allows you to receive the quality dental care you need. While basic dental insurance essentially covers preventive care and several restorative services, a more encompassing dental plan includes a wider variety of coverage, including major services. 
Breaking Down Dental Coverage
There are four main categories of coverage — preventive, basic, major restorative and orthodontic care. Your typical dental insurance plan uses the 100-80-50 approach where preventive services are covered at 100%, while basic care is covered at 80% and major care is covered at 50%. So once you pay your deductible for your dental service, your insurance plan will pay out a percentage of the costs left over, as your coinsurance.
-Preventive Care: This covers services that prevent potential issues like wear and tear, disease and dysfunction. Typically, dental insurance plans cover 100% of at least two preventive care visits every year. This includes your routine dental checkups and screenings, X-rays, dental cleanings, fluoride treatments and tooth sealings.
-Basic Care: Basic dental care is partially covered by your insurance and treats problems like toothaches, dental fillings, simple tooth extractions, gum disease and root canals.
-Major Restorative Care: Dental insurance pays a percentage of the cost of a major restorative treatment involving more complex care, including crowns, implants, bridges, impacted tooth extractions, oral surgery and sedation and dentures.
Note: Insurance typically doesn't cover orthodontic care or cosmetic procedures.
At Ace Dental Care, we currently accept various dental benefits plans and are happy to file your insurance claim for you. We believe that financial considerations should never prevent you from getting the quality dental care you need. We are happy to work with you to create a payment plan that will work for you. You can view our list of insurance plans that we accept but if yours isn't on our list, call us at 678-562-1555 to see if we might accept it. And if you aren't covered by insurance, you can look into our in house dental plan that can save you 30% on your dental procedures.
Is Dental Insurance Worth It?
We think so! Like any kind of health care, insurance can make the difference between seeking proper treatment or forgoing it altogether. Unfortunately, dental issues don't fix themselves, so avoiding the inevitable only leads to further issues down the road. 
Our practice is pleased to accept a variety of dental insurances and dental benefits plans. We offer CareCredit that can make financing a breeze for you. You can view our financing options at our Alpharetta and Norcross offices.
Call Today!
If you would like more information on our various financial options and insurance, or are ready to schedule your next appointment with our experienced dentist in Alpharetta, Georgia and dentist in Norcross, GA, please get in touch with us today! Dr. Rakesh and her associates are happy to assess your dental health and recommend the best treatment based on your oral health. Don't let your dental insurance keep you from receiving the quality care you deserve for a healthier, happier outcome!