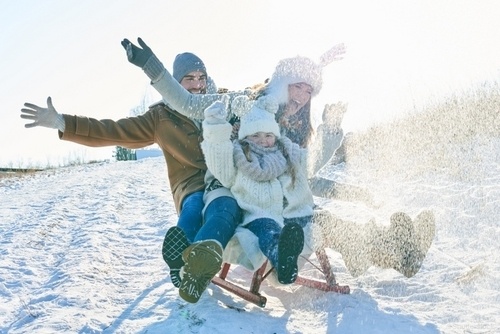 Winter is coming, and if you are anything like us, you are likely busy preparing for the holidays to celebrate with family and friends.
Because this time of year is so busy, it's easy to overindulge in your favorite annual treats while tempted to slack on your daily oral hygiene care. But that's a bad combination, and you really don't want to start the new year with poor teeth and gums! We have two tips to help you take advantage of the goodness of this special season while protecting those precious pearly whites!
Watch Your Sweets!
Whether you love sipping hot cocoa, apple cider, red wine, or eggnog, and dining on delicious cakes, pies, and cookies, your mouth can take a big hit this time of year. Sugar is actually a double whammy as it feeds your sweet tooth (and waistline) but also feeds harmful cavity-causing oral bacteria! We recommend limiting the following indulgences:
Chewy and sticky candy: Caramels, peanut brittle, divinity and toffee, candy canes, peppermint bark, chocolate, fudge, and truffles all cling to teeth and are extra hard to remove from tooth surfaces.
Dried fruit: Healthy-seeming apricots, figs, raisins and prunes take a toll on teeth as they stick in the grooves of back teeth.
Alcohol: While tempting, liquor is often high in sugar as well as dehydrating, lessening healthy saliva production, and drying out the mouth.
If you aren't careful, you can end up fighting cavities in the new year and spending time in a dental chair to remove hardened plaque and tartar. And if you have a dental crown, filling, or bridge, eating gummy and sticky treats can sometimes loosen a restoration and affect its performance. You can still enjoy limited amounts of your favorite goodies as long as you follow up by rinsing your mouth well and brushing and flossing thoroughly. The holidays are not the time to skip your daily oral hygiene care, no matter how tired you are or how busy your day is. Trust us; your teeth will thank you!
Oral Protection While Playing Sports
No matter what time of year, keeping your mouth safe from harm is crucial (especially when you are participating in recreational activities). A mouthguard covers your teeth and gums to prevent and lessen potential injury to your teeth, arches, lips, and gums. They work by distributing force over all of your teeth, so one or more teeth don't end up bearing the brunt of an impact. Wearing a sports guard can help you prevent these mishaps:
Cracked, broken or knocked-out teeth
Cuts or bites in soft oral tissues
Jaw fracture or break
Limit the effects of a concussion as mouth guards pad the upper and lower rows of teeth
The easiest way to protect your mouth is to always wear any protective gear recommended for your sport and wear an athletic guard during your participation in said sport. Whether you're enjoying indoor activities like wall rock climbing or ice skating at a rink or the great outdoors skiing, snowboarding or sledding down a hill (whatever your holiday sport of choice), remember to protect your smile!
You can get a simple boil and bite mouthguard at any sporting goods store or an over-the-counter version from a drugstore. You can also choose a custom-made mouth guard that offers optimal protection, comfort and ease of breathing. The most important thing is to wear your guard whenever you are participating in your activity, indoors or outdoors!
The Gift of a Healthy Smile
Your smile is so important. It's the gateway to good overall health as it allows you to chew healthy food, sing carols and kiss your loved ones under the mistletoe! With the right precautions, you can enjoy the holidays while keeping your mouth healthy and strong so you can smile well into the new year. From our family to yours, we wish you and your loved ones all the very best this holiday season! Please call us if you have any concerns about your smile!