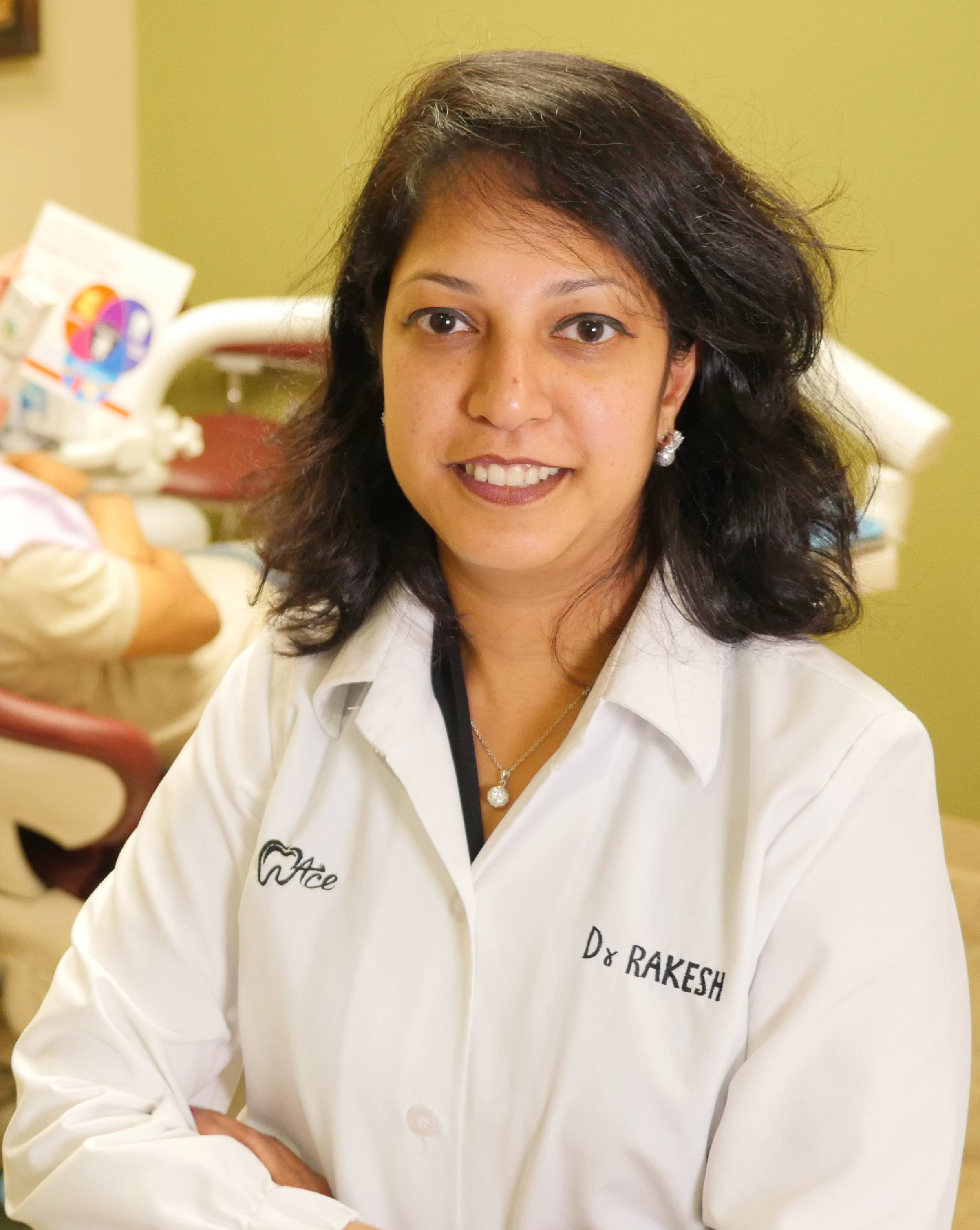 Pallavi Rakesh, DMD
La Dra. Pallavi Rakesh obtuvo su Licenciatura en Cirugía Dental (BDS) de la Universidad de Bangalore, y asistió a la escuela en la Escuela de Medicina Dental de la Universidad de Boston, donde obtuvo su Doctorado de Medicina Dental (DMD). Mientras estaba en la escuela dental, ella estudió bajo algunos de los mejores instructores del mundo, y sobresalió en el desarrollo de sus habilidades clínicas. Ella avanza regularmente su educación dental a través de cursos de educación continua. La Dra. Rakesh ha practicado la odontología en Alpharetta, Georgia, y alrededores desde 2007.
La Dra. Rakesh también ha recibido formación avanzada en implantes dentales. Se mantiene actualizada en colocación de implantes dentales y procedimientos de aumento óseo, Y ha completado el Maxi Curso de Implantes de la Facultad de Medicina de la Escuela de Georgia de Odontología. Ella es miembro de las siguientes organizaciones dentales:
Academia Americana de Odontología General
Asociación Dental de Georgia
Academia Americana de Odontología de Implantes
Instituto de Estudios Avanzados Dentales de Las Vegas
La Dra. Rakesh se conoce por su naturaleza de cuidados y manera gentil. Ella tiene una reputación de proporcionar cuidado sin dolor a sus pacientes, y se enorgullece de tratar a cada paciente como si fueran un miembro de su familia. Como dentista, su meta es crear sonrisas hermosas y saludables.
La Dra. Rakesh y su esposo, Rakesh Talanki, tienen dos hijos, Aniket y Ishanth. Cuando ella no está ayudando a pacientes en su clínica, disfruta pintar en aceite, jardinería, escalar, andar en bicicleta, y hacer actividades al aire libre. La Dra. Rakesh ha tenido pasión por las artes desde pequeña. Tiene una colección de Diseños Étnicos en estilos Indios y Europeos contemporáneos, y ha creado muchas obras hermosas de arte ella misma, usando lienzo, vidrio, alfarería, y cerámica. Ella ve arte en la odontología, los trabajos de la Dra. Rakesh se caracterizan por excelencia en su confección. Para ver sus obras de arte, puede visitar su sitio web, http://www.paintingsforever.com/, o venir a la clínica para ver algunas de sus obras de arte.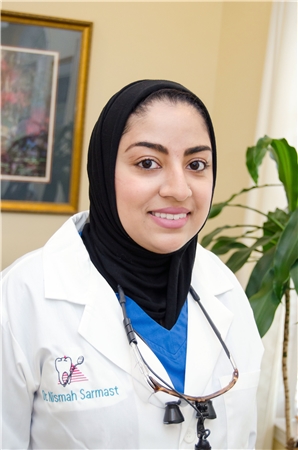 Nismah Sarmast, DDS
El Dr. Nismah Sarmast nació y se crió en Paramus, Nueva Jersey. Después de graduarse de la escuela secundaria, la Dra. Sarmast completó su licenciatura en Ciencias Biológicas con especialización en Sociología en la Universidad de Rutgers en New Brunswick, NJ.
Luego pasó a completar su doctorado en cirugía dental (DDS) en la Universidad de Nueva York en el corazón de Manhattan. Después de completar su grado dental, la Dra. Sarmast continuó su entrenamiento con una residencia de práctica general (GPR) en Hackensack UMC Mountainside Hospital en Montclair, NJ. Esta capacitación hospitalaria adicional ha sido una experiencia educativa invaluable que el Dr. Sarmast dice que la ayuda a brindar la mejor atención a sus pacientes. Después de completar su residencia, la Dra. Sarmast se casó con su esposo, un nativo de Roswell, Georgia, y se mudó a Atlanta poco después.
Después de trabajar como dentista supervisora ​​en un gran centro de salud, ahora ha pasado a la odontología privada. Ella tiene un toque suave y los pacientes aman su personalidad amable. Ella se compromete a brindarte recomendaciones honestas y te tratará como a su familia. El Dr. Sarmast está tomando cursos avanzados de educación continua para proporcionarle la mejor y más actualizada odontología.
Ahora reside en Lawrenceville, GA con su esposo y ama su nuevo hogar. ¡Cuando la Dra. Sarmast no está en la oficina con sus pacientes, le gusta cocinar, hacer caminatas, hacer yoga y pasar tiempo con su familia y amigos! ¡Ella está emocionada de ser parte de la familia de Ace Dental Care y promete cuidar de ti!
Dr. Miguel A. Martinez Jr., DMD
El Dr. Miguel A. Martinez Jr., Doctor en Odontología, está especializado en cirugía oral.
Experto en extracciones y restauraciones dentales importantes desde muelas del juicio retenidas hasta implantes dentales.
El Dr. Martínez nació y creció en Miami y habla español con fluidez. Se dedica a la odontología desde hace 25 años.
Su carrera en este ámbito se inició en la United States Army, donde se formó para ser asistente dental y cargo que ocupó y desarrolló durante un año. Una que finalizó la facultad de laboratorio dental, el Dr. Martínez se dedicó durante seis años a la creación de aparatos dentales rehabilitativos.
Aunque el período que el Dr. Martínez pasó en la Army le brindó la fantástica oportunidad de viajar ampliamente, él tomó la decisión de continuar forrmándose.
Anteriormente a licenciarse como odontólogo por la University of Florida en 2007 cursó y obtuvo el grado de asociado por la University of Maryland University College Europe en Alemania.
"A muchos pacientes ir al dentista les produce una gran ansiedad", dice el Dr. Martínez. "Considero que, conjuntamente con mis pacientes, es un privilegio y una responsabilidad disminuir la tensión en la cirugía dental".
Las inyecciones indoloras, las rápidas extracciones y las cirugías orales y restauraciones que lleva a cabo el Dr. Martínez en su totalidad van acompañadas de música. "Necesito trabajar con música", dice, "lo que también ayuda a mis pacientes".
El Dr. Martínez es voluntario activo en Caring for Miami, una unidad móvil pastoral y, cuando no está con sus hijos, está centrado en su profesión.
Le encanta viajar por el mundo, disfruta leyendo, cocinando, con la salud y el bienestar, incluyendo el culturismo, además de ser seguidor acérrimo de los Florida Gators.
Conozca a nuestro Equipo
¡Ace Dental Care LLC tiene un increíble equipo dental! Estamos enfocados a proporcionar cuidado gentil a nuestros pacientes, y tratamos de asegurar que usted reciba los tratamientos que necesita para disfrutar de una sonrisa saludable y hermosa. Venga a nuestra clínica a visitarnos o llámenos al 678-562-1555 para programar su cita con nuestro dentista. Esperamos conocerlo y ayudarle a crear una sonrisa ¡impresionante!
¡Regrese pronto para conocer a nuestro increíble equipo dental en Ace Dental Care LLC!